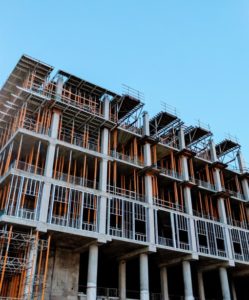 The property sector is facing many challenging pressures including supply chain issues and rising fuel costs.  However, there will also be the impact of taxation to factor in.  The change in government has added new uncertainties so it is important to make sure to stay alert to the tax issues.
Tax on SPVs (Single/special Purpose Vehicles)
Many property investors choose to use SPVs, where each company holds one (or a small number) of properties, rather than put all of their assets into one company. This allows access to using different funders for different deals while containing the risk on one investment to that one company.  It also keeps open the option of share purchases or share sales.  Profits tend to be relatively low yielding, but constant from year to year.
Property developers often use SPVs for the same reasons, with a large emphasis on risk mitigation and access to funding.  However, profits are generally more lumpy, with large loss making years and (hopefully) larger profit making years depending upon the development and sales cycle.
Impact of the year end date
There are several issues but the first to highlight is the effect a year end date has on tax.
The proposed increase in corporation tax rates to 25%, which have for many years been at a low of 19%, is well publicised.  Should this still go ahead as proposed by the Johnson/Sunak government, this increase takes effect for profits arising after 1 April 2023.   Of course, there is the potential for those rates to be changed.  Either way, it will be important to plan ahead.
Apportioning profits
Assuming the rate goes ahead, it would mean that where a company's financial year straddles 1 April 2023, the profits for that year are apportioned according to time, e.g. A company with a 30 September 2023 year end would see 6/12ths of its profits taxed at the higher rate and 6/12ths at the old rate, irrespective of when they were actually earned.
Of course, that would be fine if profits were generated evenly across the year (e.g. a property investor's rental income), but what about a developer who sells units in January or February 2023?  In this case, they would be taxed at a higher rate than the 19% that applied when they actually made the sales.   Naturally, the opposite also applies in the first year of change, where the choice of company year-end could potentially bring down the rate of tax.
It may be easier to show these using some simplified examples :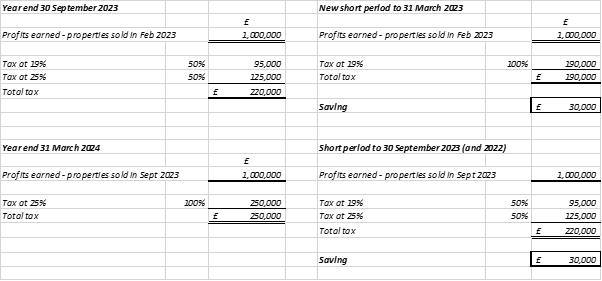 This simplified example shows just one aspect  of how planning ahead can help  so take the time to consider the impact of future CT changes for your business.  However, anyone thinking about this should take proper advice and think not just of the tax implications, but all factors.