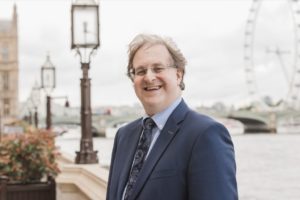 Julian Flitter was unanimously elected Managing Partner succeeding Çetin Suleyman who has been in the leadership role since 2016.
Çetin said, "It's been a very full 6 years and I've loved the role. I am incredibly proud of how the whole team has responded and adapted to all the challenges that the last few years have presented and I'm delighted at the position we are in.  It's now time for someone with fresh eyes to lead the Goodman Jones peloton and  I hand over to Julian knowing we are in great shape to take on the new challenges that lie ahead."
Julian joined Goodman Jones in 1985 and has been a partner since 2000.  He has had several senior leadership responsibilities, most recently in finance.  He also conceived and drove the firm's charity practice to the position it is today.
On announcing the new role to the Goodman Jones team Julian said, "My thanks to Çetin for all he brought to the leadership of the firm in the last few years.  His time is characterised by a focus on the importance of relationships, not just with our clients, but internally and that has created the culture we all enjoy today.  People and relationships will remain core to my vision for the next phase of our development."
"Within the Goodman Jones DNA is the drive to do what's right for the long term.  That has always informed how we've advised our clients and worked with all our stakeholders.  That will propel us forward as we address and adapt to the new challenges that we all face and it will ensure that Goodman Jones remains a truly sustainable and inclusive business, poised to thrive in new conditions."