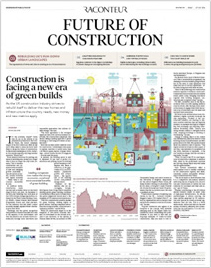 The Future of Construction report published by Raconteur Media in this week's (Sunday 27 March 2016) Sunday Times, highlighted the forecasts for the global construction sector growth of more than 70% by 2025 and underline what opportunities there are to be had by those businesses operating in and alongside it.
What is particularly good to see is the role that British businesses are playing in that and their role in the innovations that are being brought to the sector.  See the article on Ten ways we are changing the way we build.  With so many ways that the sector is adapting, many driven by use of new technologies, but not all, there are great opportunities for businesses to improve site efficiencies and processes.
We have seen this with several of our own construction clients and would urge others to remember that their investment in improving processes and developing new solutions for customers could well qualify for an R&D tax credit.