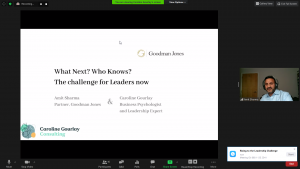 If you're a leader, how do you find focus at a time like this? It's unlikely you've ever faced such a significant challenge. You may be in a front line organisation with staff in personal danger; you may be worried for the very survival of your business, wondering how to change direction or you may be struggling to cope with unprecedented demand for your services. Whatever the situation, this is not business as usual and it will be a test of your leadership.
Not least because the whole organisation will be looking to you for guidance. But who looks after the leaders?
Rising to the Leadership Challenge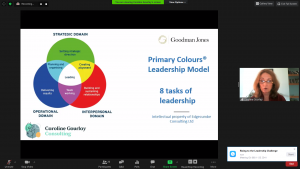 In our webinar, Caroline Gourlay, business psychologist and leadership expert took us through a leadership model that looked at the 8 tasks of leadership and how the pandemic has challenged previous leadership priorities.  The key lesson is that, whilst no leader is good at every part of the model, it is important to ensure that energy isn't devoted exclusively to only one area which would result in lop-sided leadership.
Coping with pressure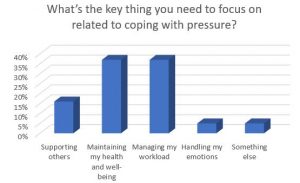 The pandemic has disrupted plans and certainties and coping with pressure has never been more pertinent for leaders, especially with the additional challenge of working remotely from the business and team.  Caroline said that it was important that leaders accept that this is difficult and have self-compassion but to set time aside to look after their own health and well-being.  In Carolines words, "You're no use to your business if you keel over."
Priorities for the leaders
Throughout the webinar Caroline posed questions to the audience which was made up of leaders of businesses based in the UK and internationally.  The session examined how the pandemic had affected the aspects of leadership.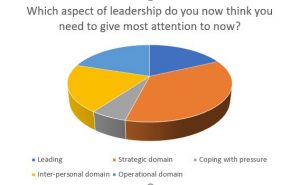 There was overwhelming agreement from the attendees that the biggest question for leaders now was 'Where do we go next?'.  The number of leaders now prioritising that has doubled.
Strategic issues
Whilst it was good to see that there was a healthy number of businesses focusing on capitalising on new opportunities, that was equally balanced with the need to get everyone aligned, how to navigate uncertainty, and simply, how to survive.
Operationally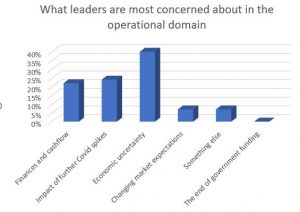 Unsurprisingly, leaders are most concerned about  the economic uncertainty we are facing followed by the impact of further Covid spikes.  Financing and cashflow remains key.
The pandemic has propelled the discussion about shifting working patterns and the need for leadership styles to shift accordingly. Its more about giving people the flexibility to work how they want (and in many cases, need eg those also juggling new childcare challenges).  Productivity vs presenteeism.
Leaders need to consider what good performance looks like now and how to measure that.
Inter-personal
The impact of new working arrangements is being felt by leaders who said that maintaining team cohesion was a significant challenge as was maintaining external relationships. This article on anxiety at work may be helpful for those leaders who are also trying to look after people who are struggling.
Please enjoy Carolines Covid-19 Leadership guide and it you would like to receive Caroline's blogs please sign up here.