For most family firms, the business isn't the endgame. Their owners aren't typically in business for business's sake; their aim is to create wealth for their families.
As such, the job of a family business adviser (FBA) is to help the family – not just the business – to get to where they want to be.

An FBA's 'client' is the family as a whole, the family members as individuals, the business and its owners, all at the same time. Their job is to listen to the concerns of the people involved, and work with them to find solutions that everyone can buy into.
The family business advisory process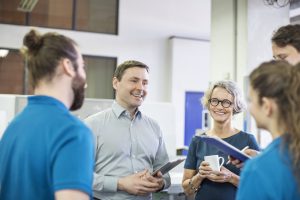 We believe that the most effective way of working with an FBA is to begin with an in-depth kick-off session.
At Goodman Jones, this entails a long and detailed discussion about the family, and about the history of the business from inception to the present.
Using this information, and their knowledge and experience of how family businesses operate, our skilled Family Business Advisers will identify any vulnerabilities or potential flashpoints in the company-family ecosystem. They do this by analysing:
• each family member's role within the company
• each individual's age and stage in life
• the personal dynamics between the family
Our FBAs will also know who to they need to engage with to resolve any issues – internally within the company, as well as any other external advisers.
This powerful exercise provides a template for how things are, and how to deal with future challenges. And it can open the family's eyes to issues they didn't know they were facing.
The benefits of a family business adviser
Having gained a deep understanding of the family and the company, our FBAs will help implement the appropriate solutions, such as governance structures, refinancing, succession, tax planning, and so on.
They'll also work with the owners to address any issues that may emerge. Our advisers have helped hundreds of family businesses to address a wide range of common challenges, including:
• How can retiring generations fund the next stage of their lives – and will that affect the family members left in the business?
• Are the next generation ready to take over, or would it be beneficial to the business for their parents to make a more gradual exit?
• Should outsiders be brought in to help run the business for a period? If so, how will the family adjust to their business no longer being family-run?
Crucially, they can be a neutral mediator between family members. They're there to help you reach any compromises that are needed to help meet your shared objectives; and to ensure that the arrangements put in place meet everybody's expectations.
Ultimately, this is where our Family Business Advisers truly add value for our clients: by acting as a sounding board, a guide, a negotiator, a problem-solver, a bridge between the generations – and most of all, someone who tells it like it is.
Sign up for our family business updates or follow me on LinkedIn or Twitter