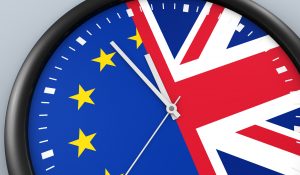 The hard-fact for business remains, as the law currently stands, the UK leaves the EU on 29 March; Deal or No Deal. As the 29 March is less than 50 days away now, it is necessary to consider what this would mean in practical terms should no deal become reality by default.
The government has started issuing some guidance on things to consider, should the no deal become reality.
As a first step, we explore areas businesses need to think about in order to prepare themselves from a regulatory compliance perspective:
Import/Export Ready
1. If you import and export goods to EU, under a no deal scenario you will need UK EORI number. This can be obtained here. We recommend registering for one now, even if it is not used.
2. Customs declarations will be required. The government has said it will publish further information closer to the time. However, here are the tariffs in place currently.  To assist in cash-flow modelling should these rates become applicable.
3. Review the terms and conditions of your contracts to reflect the business will be importing or exporting goods.
VAT Ready
1. When importing goods to the UK, the government intends to allow for the Import VAT due to be reported on a business' VAT return. Rather than paying it at the border.
2. If exporting goods direct to EU consumers and businesses, then import VAT and customs duties will become due when goods arrive in the EU.
3. For those that sell digital services, the Mini One Stop Shop (MOSS) portal, as things currently stand will no longer be available. To continue using MOSS it will be necessary to register in an EU Member state for the VAT MOSS non-union scheme. Registration needs to be completed by 10 April 2019 to report sales between 29 and 31 March 2019
Financial Reporting Ready
1. If a UK business has a branch operating in the EU, under a no deal scenario it will become a third country business. Remaining EU Member States may no longer deem compliance with the Companies Act 2006 as sufficient.
2. The guidance states exemptions in Companies Act 2006 will no longer be available to companies with parents and subsidiaries in the EU. Highlighted is the current exemption from preparing dormant accounts where an EU parent company prepared group accounts.
In addition to these compliance requirements under a no deal scenario, we strongly recommend cash flows are reviewed. As on top of costs arising from the imposition of tariffs and VAT, it is possible that the working capital cycle will extend due to hold ups in transportation.
Overall there are fewer than 50 days to go until Brexit, therefore it is necessary to start planning for a no deal eventuality. This is likely to be a very uncertain time for your business, especially while getting to grips with the new trading arrangements. However, action now can at least lay foundations for operating under a no deal scenario.